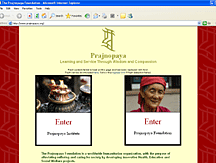 Client Since: January 2006
Products used:
Interactive
® Direct Marketing™
Number of emails processed:
36,000 Mails/Year.
Application Solutions: Direct Marketing.
About Prajnopaya: Prajnopaya Foundation is a social service organization with a difference, founded by venerable Tenzin Priyadarshi a visiting scholar at MIT, Cambridge and a majority of its members come from the student community at the Institute. Prajnopaya is committed to enhancing the quality of life of humanity at large by bringing about qualitative changes in attitude and behavior of the individual. The foundation is engaged in social work in the most impoverished and backward areas of the world by way of relief operations during natural calamities and regular social service to the weaker sections of society. Prajanopaya is inspired and driven by the principles of charity, service and sacrifice and believes in self realization through the Buddhist tradition of cleansing one's inner self and exploring the inner soul and reality around us through methods evolved over the centuries.
Before Interactive: As a non-profit organization, Prajnopaya Foundation depended on donations from members and like-minded people to propagate its cause and carry out its social work. It conducted regular religious discourses, training sessions and workshops for its members and needed a tool to intimate / invite them. In addition the foundation also had to keep its donors and members updated on the various relief work being carried out currently and future plans.
The Interactive Deployment: Prajnopaya felt the need for a professional email management agency to take care of its communication needs and after weighing the options selected Interactive for its expertise and commitment to non-profits. Interactive analyzed the situation and recommended deployment of its well researched outbound communication tool DM™.
After Interactive: Interactive's powerful Spam filters helped in keeping Interactive's user-friendly campaign process made it easy for Prajnopaya to keep in regular touch with its member base. It was able to invite / intimate them to its various programs through monthly newsletters. This helped in ensuring a good level of attendance for its various programs and creating awareness on its goals. It also kept members and donors informed on the social work being carried out by the foundation in various parts of the world and future plans.