American Red Cross of Central New Jersey Success Story
Why American Red Cross of Central New Jersey Selected Interactive®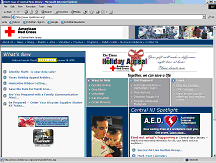 Client Since: January 2006
Products used:
interactive® Direct Marketing™ interactive® Data Warehousing™
Average Monthly Email Volume:
Approx. 15,000 per month.
Application Solutions:
Newsletters, Electronic Notifications, Data Form Capture.
American Red Cross of Central New Jersey and Interactive Partnership: The American Red Cross of Central New Jersey serves a population of 1.2 million throughout Mercer, Middlesex, Hunterdon and parts of Somerset counties. Each year the chapter provides hundreds of disaster victims with food, clothing, shelter and emotional support; trains thousands of individuals in lifesaving CPR and AED usage; provides thousands of daily meals to the elderly and homebound; and holds more than 300 area blood drives as well as offers an on-site blood donor center open to the public. The chapter has a volunteer base of more than 2,300 community residents and youth.
Why Interactive? The American Red Cross of Central New Jersey realized the importance of electronic communications. Their sophisticated and well-organized web site is a testament to that realization. They also recognized the need for strong technology to enable them to communicate through the electronic channel with their local community, including donors and volunteers… After a very serious search across providers of Electronic Relationship Management solutions, Interactive was selected for the following reasons:
Proven technology and excellent service record.
Longest years of operation. Interactive was founded 1994
Commitment to help non-profits and social causes
Knowledge and desire to educate
The above factors coupled with Interactive's strong commitment to non-profits were key to Interactive being selected. Presently Interactive services notable non-profits such as National Public Radio (NPR), Solomon Guggenheim Museum, World Music and Prajnopaya to name a few.