Los Angeles Times Success Story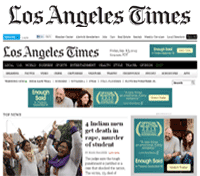 Client Since: November 2001
Products used:
Interactive® Customer Care™
Interactive® Business Intelligence™
Interactive® SPAM Filters™
Number of Emails Processed:
Over 750,000 emails since November 2001
Receives approximately 20,000 emails per month
10 Users
3 Divisions
13 Departments
17 Mail-in Addresses
Service Solutions:
Strategic Consulting, Customer Care (CC), Business Intelligence (BI), Spam Filtering (SF), Data Warehouse (DW).
Types of Services Provided
Ability to Dialogue between latimes.com and customers in a timely manner
Routing of fulfillment data to third party vendors
Advanced SPAM Filtering
Company Overview: latimes.com is one of the leading sources for national and international news and information on the World Wide Web, and the primary source of news and information for and about Southern California. latimes.com has more than 50,000 content pages and the site is continuously updated throughout the day, making it one of the most comprehensive news sites on the World Wide Web. Every day more than 3,000 stories are uploaded to provide readers with all of the day's news. In addition, users have access to a million stories from past issues of The Los Angeles Times available in the latimes.com archives dating back to 1985. latimes.com is a Tribune Interactive Company, one of the largest sources of interactive news and information services in the country.
Before Interactive: latimes.com customer service department faced several problems; ever-increasing spam volume impeded workflow and created system outages. They were unable to efficiently manage customer Email, or to leverage customer information from Emails and webforms to engage in customer dialogue, and were unable to handle inbound Emails generated by various channels to include their new interactive web page. Costs were increasing as service levels decreased. At current staffing levels, they were losing the ability to provide excellent customer service, and were planning on adding 8 full-time personnel to handle the growing Email volume, of which more than 1/3 was SPAM clogging mail servers.
The Interactive Deployment: Interactive exceeded all expectations of latimes.com when they deployed Interactive® Customer Care™ (CC) within three days of their request. Within hours of implementation, the Interactive solution was performing business intelligence analysis, filtering spam, Email and processing customer inquires, providing management the ability to generate instant reports with valuable and concise snapshots of customer needs.
latimes.com created and deployed 50 categories covering topics such as online archives, navigation of site, online photos, pop ad advertising, registration questions, letters to the editor, press release submittals, and more. These areas bring in data from the webform as well as free-form Emails. With Interactive, latimes.com employees have an unparalleled access to real-time customer data, each user accessing subject areas depending on their role and responsibility.
After Interactive: Using Interactive Technology, latimes.com achieved major results; customer service morale increased; productivity increased between 300%-450%, and the need for additional hiring eliminated. latimes.com using Interactive, Inc. is saving between $25,000 – $35,000 (US) per month in operating and personnel costs.
latimes.com saw significant improvements in their Email management and ability to handle customer inquiries. Within a short time latimes.com reported a steady growth in online subscribers, enhanced customer relationships and loyalty built on the use of Email to increase their marketplace position.
Management views Email as a measurable marketing tool, proven as a quick lead generator and option for product upsells, management can see what is happening in each department on a real-time and performance basis and is better able to evaluate current marketing strategies and future needs.