Dr. Shiva Ayyadurai, MIT PHD, SMME, SMVS, SBEE, the inventor of email and polymath, holds four degrees from MIT, is a worldrenowned engineer, systems scientist, inventor and entrepreneur. He is a Fulbright Scholar, Lemelson-MIT Awards Finalist, India's First Outstanding Scientist and Technologist of Indian Origin, Westinghouse Science Talent Honors Award recipient, and a nominee for the U.S. National Medal of Technology and Innovation. He holds multiple patents, is the author of twenty books, and has published original research, in leading peer-reviewed high-impact scientific journals including IEEE, IJPRAI, Nature Neuroscience, CELL Biophysical Journal, that have received thousands of citations. He has started seven successful high-tech companies, received numerous industry awards, consults for Global 2000 organizations and government, and has been invited to present Keynote and Distinguished lectures at leading institutions such as NSF, NIH, FDA, Harvard, and at MIT, where he delivered the Presidential Fellows Lecture.1
EchoMail®: Automatic Document Analysis and Classification (1993-Present)
Following the invention of email by Dr. Shiva in 1978, and up until 1993, email was an inter- and intra- office business application. However, after the advent of the World Wide Web (WWW) in 1992, web-based email applications made email a consumer application resulting in an explosive growth of email usage.

In 1993, the White House, Executive Office of the President, sponsored an industry-wide competition to automatically to analyze and classify President Clinton's email to assist in handling the deluge of email. While in the midst of his PhD work, after being selected as the only student participant, Dr. Shiva won this industry-wide competition. This resulted in his being awarded a number of foundational patents in pattern recognition (one of which is shown in Figure 23) and developing EchoMail® – a platform for enabling pattern recognition classification of electronic documents, which led to his starting EchoMail, Inc., a company that grew to nearly $200 million in market valuation. EchoMail was featured in EchoMail enabled the automatic classification and routing of large volumes of email for Global 2000 companies such as Nike, American Express, P&G, Citigroup, to enable rapid response to customer inquiries, as well as to increase levels of customer service.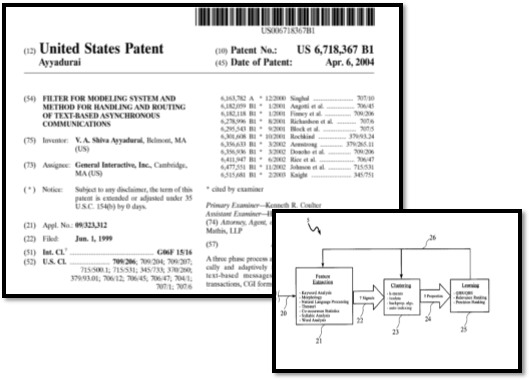 The approach here, as aforementioned, was to identify the Normal State as well as the Abnormal States of an email, as illustrated below.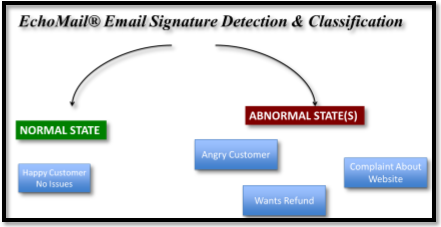 Patents and Trademarks
EchoMail, Inc., Millennium Cybernetics, EchoMail, The Email Company, Dr. Email, Email=E-Commerce, Are you Ready to Listen?, When You're Ready to Listen, EchoMain, EchoLeads, EchoSentinel, EchoShopper, are trademarks of EchoMail, Inc. EchoMail also has several patents for EchoMail's XIVA™, the core technology used in the products.
EchoMail has been granted the following U.S. Patents:
US Patent Number 6,668,281 for its Email Automation technology.
US Patent Number 6,718,368 for its Content-Sensitive Automatic Reply Generation System technology.
US Patent Number 6,718,367 for its Handling and Routing of Asynchronous Text Based Communications technology.