Money Media Success Story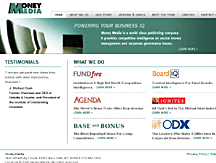 Client Since: August 2006
Products used:
Interactive
® Direct Marketing™
Application Solution: Direct Marketing (DM).
Company Overview: Money Media is a world-class publisher located at New York. Its newsletters are considered an authentic news source and guide to money management and corporate governance by key senior managers in their respective fields. Its niche publications provide critical information on topics ranging from asset / fund management, boardroom news, corporate governance and performance analysis. Money Media's well-researched and impartial articles give it a high degree of credibility among decision/policy makers.
Before Interactive: Money-Media was not able to market their publications as effectively because their prior broadcast email tool didn't have the robust functionality and reporting provided by Interactive. Money-Media was limited in the number of campaigns they could run, non-compliant with the latest email security technology (such as SenderID and DomainKeys), and forced to manually send campaigns, rather than scheduling them in advance.
The Interactive Deployment: Interactive analyzed the specific need of the client and recommended the deployment of Interactive® Direct MarketingTM its well-researched outbound campaign tool. Interactive's news scraper technology enabled scrapping of relevant content from its website and sending to specific targets.
After Interactive: Money-Media was able to automate the process of including late-breaking news in their marketing emails, thus allowing them to schedule campaigns days/weeks in advance and still include the latest news in the emails. This automation enabled Money-Media to drastically increase the number of campaigns they conduct and the effectiveness of each campaign. As well, improved reporting, better compliance with security standards, and excellent customer support have been additional benefits.