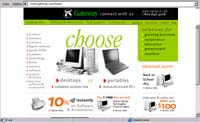 "The customer is everything at Gateway. With our Interactive direct mail campaigns running at 10% to 20% response rate, I'd say it's working great!"
– Christine Griencewic
Relationship Marketing Manager, Gateway, Inc.
Products used:
Interactive® Business Intelligence™
Interactive® Customer Care™
Interactive® Direct Marketing™
Number of Emails processed:
Over 4 million Emails. Over 50 direct-mail campaigns
Service Solutions:
Data Mining, Business Intelligence Support, Network Architecture, Workflow Analysis, Direct Mail, Strategic Planning, Training and Consulting.
Company Overview Gateway, Inc. ("Gateway") is a Fortune 200 company with sales revenue over $5 billion, providing complete computing solutions for clients throughout the world. The company employs more than 19,000 people worldwide. Gateway builds computers "Your Way", so they need to know what you want.
With Interactive®, Gateway talks in real-time to their most valuable assets–their customers
Our Philosophy: Gateway is constantly bringing new technology to the market, and is a leader in the PC marketplace. Gateway is innovator, and has quickly turned "multimedia" into the must-have industry standard. Gateway is keenly focused on expanding its leadership in customer support and response.
"Interactive is providing the intelligent communication solution we need to Build Brand Loyalty in Real-Time™"
– Christine Griencewic, Relationship Marketing Manager, Gateway, Inc.
What Interactive does for Gateway? Interactive handles both inbound and outbound Email communication, direct-mail campaigns and newsletter mailings. Gateway's use of Interactive, sending messages and compiling Email address lists, data mining, and building one-to-one relationship marketing programs directed at targeted customers, represents a simple, quick and cost-effective solution.
Interactive has saved Gateway over $5 million in customer response management costs alone.
Types of Inquiries Handled:
Site click-through analysis
Real-time customer requests
Sales leads and requests
Product and store location
Pricing and billing
Systems, hardware and software
E-commerce issues and requests
Thousands of varied support inquiries from four division locations
Email feedback requests
The Real Value of Interactive: Interactive/DM delivers to Gateway a wide range of valuable up-to-the-second market information based on web site user activities and inquiries. Advanced reporting, including an executive summary, and real-time tracking reports are automatically gathered from direct marketing campaigns and promotions. This valuable information is used to create Gateway's electronic mailing lists and web-based newsletters. Interactive helps Gateway bring affordable, personalized technology to their customers.
Primary Interactive Benefits: Interactive brings sales leads to Gateway and accurate responses to Gateway's customers and one-stop shopping.