McDaniel Executive Recruiters Success Story
Interactive Becomes Information Engine for Nation's Major Placement Agency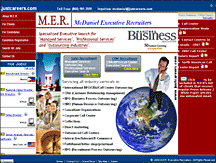 Client Since: September 2007
Products used:
Interactive
® Direct Marketing™
Email Volume::
More than 100,000 Emails per month
Service Used:
Direct Marketing (DM)
Company Overview: McDaniel Executive Recruiters (M.E.R.) is a highly specialized executive search firm dedicated to the Direct Marketing, CRM, BPO and call center industry. It is headquartered at Winnipeg, Canada, with additional offices at Arizona and Oregon and has strong experience in the NA, Europe and Asia markets. The company places personnel at all levels in the sales, marketing, operations, general management and HR positions and is often called upon by its clients to share its expertise and knowledge in conducting surveys in the BPO/Call Center industry
Before Interactive: M.E.R. had built a strong reputation with its client base (employers) as well as job aspirants. It realized that professional communication with both these sections was vital to reinforce and grow this reputation. In its nature of business it had to keep in constant touch with the senior management members of companies it worked with and also keep its registrants informed of opportunities available. In short speedy communication was imperative to its growth.
The Interactive Deployment: Interactive studied the needs of the client and recommended the use of Interactive® DMTM. Its well-researched communication tool. These campaigns helped MER to communicate effectively with its clients and keep abreast on available options with them and also keep its registrants well informed in a speedy manner.
After Interactive: Interactive helped MER maintain speedy and effective communication with both its clients and candidates and enhance its quality of service to both sections thereby helping to reinforce its position as among the nation's premium placement agencies.