Nation's Largest Direct Marketer of Auto Insurance Success Story
Interactive® E-Billing Makes Cents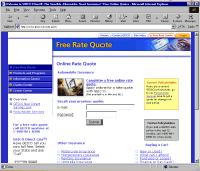 E-Billing through the 
Interactive
 product suite enables Nation's largest direct marketer of Auto Insurance to keep overhead down and customer satisfaction high.
Client Since: February 2000
Products used:
Interactive
® Business Intelligence™
Interactive
® Customer Care™
Interactive
® E-Billing™
Number of emails processed::
60,000 mail since 2004
60 campaigns a month
500,000 E-Bills a month
300,000 DM Emails a month
Service Solutions:
Business Intelligence Support
Workflow Analysis
Direct Mail and Strategic Planning
Data Mining
Training and Consulting
Network Architecture
Types of Inquiries Handled
Rate quotes
Insurance product information
Billing-based questions
Corporate information requests
Company Overview: The Nation's largest direct marketer of Auto Insurance still has auto coverage as the backbone of its business. With operations spread over 48 states it offers insurance cover to government and non-government employees, with offerings that include house owners, boat and motorcycle insurance. It has a worldwide presence with offices in 218 countries in Asia and Europe.
Before Interactive: In order to keep premiums low and service high, the company did not use insurance agents; instead it employed over 18,000 associates who worked directly with the customer. However, these savings were offset by the high costs associated with direct marketing, advertising and billing. Before Interactive, the company estimated that each bill was costing them $5.00 (fully loaded) to execute, making the billing segment of the business the most costly. Additionally, since it handled its billing mainly through customer service representatives, customers with billing questions experienced lengthy waiting on the phone, which lead to a fall in customer satisfaction levels.
The Interactive Deployment: Interactive deployed E-Billing, Customer Care, and Business Intelligence within two months, configuring the system to work with the company's current network architecture.
After Interactive: With E-Billing, it sends 500,000 E-Bills a month at less than 0.03 cents a bill, or $15,000 a month on billing. Prior to E-Billing, the company spent $2.5 million a month on billing for the same number of customers. This is a cost savings of over 166 percent. E-Bills are more than just cost-effective they enable customization of each bill with information like birthdays, targeted news, and up sell information, allowing the company to personalize its customer contact without slowing down the billing process. Using Email, it was able to attach return receipts to each bill, letting the billing department track customer invoices. Customers receive an Email notification when a new bill has been issued and now have the ability to view, pay, and maintain an online billing history. This service is key to improving accountability and customer support. Interactive helped the nation's largest direct marketer of Auto Insurance to integrate Customer Care/Business Intelligence into E-Bill response handling, driving customer satisfaction to 94 percent.